We are really excited to be able to  offer Forest School to all of our pupils .
Eythorne Elvington is committed to giving children the opportunity to learn in the outdoor environment. We believe that taking learning outside is good for promoting children's self esteem, well being, behaviour, co-operative learning and problem solving. These skills feed back positively into classroom work and other settings.
What is Forest School?
"Forest School is an inspirational process that offers ALL learners regular opportunities to achieve and develop confidence and self-esteem through hands-on learning experiences in a woodland or natural environment with trees." (Forest School Association, 2015)
Forest School is based on an idea originating from Scandinavia where people of all ages and abilities can develop socially, emotionally, physically and spiritually through play following individual and preferred learning styles. This is from using the outdoors as a learning environment through which the children are able to take managed risks whilst having first hand learning experiences
"Learning to manage risk and adventure has important cognitive benefits, not just in increasing knowledge but also in developing personality traits such as team working skills, motivation, concentration and perseverance." ( Knight 2011)
This principle is at the heart of our outdoor learning and Forest School sessions. We allow children to explore and experience risk in a safe environment. To allow this to happen we use risk benefit assessments for relevant activities which weigh up the risk versus the benefit to the children for the particular activity. As well as high adult to child ratio which allows us to communicate with the children on a very individual bias. This ensures that we minimise any possible risk and that the learning can take place in a safe environment.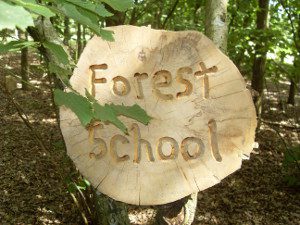 Key features of Forest school
• It is run by qualified level 3 Forest School practitioners.
• It is a long term process with regular contact in a local wooded environment (preferably over the seasons).
• It follows a child-centred pedagogy where children learn about and manage risk.
• It has a high adult: child ratio.
• Observation of the learners is key to enabling scaffolding of the learning.
• Care for the natural world is integrated.
• Learning links where appropriate are made with class and home
We are very lucky to have a small wooded area on site and this is where our sessions will take place. As an integral part of this process, children, staff and visitors will learn to understand the natural environment with the aim of being able to care for it and learn how to sustain it. They will also experience the outdoors in all weathers, With the exception of very high winds and thunder storms, please assume that your child will be outside when they take part even if it is for a shortened session.
What should they wear?
As weather patterns are continually changing through the seasons, it is very important that you adjust the type and quantity of your child's clothing when they are at Forest School!
We work on the principle that "there is no such thing as bad weather, only
bad clothing".
Autumn/ Winter
The Children will need waterproof trousers and coats.

All children to wear sensible footwear, walking boots, wellies
Thermal or thick long socks.

Children to wear long trousers (to protect legs from scratches and stings) In addition tights or leggings are advisable to be worn under trousers for both boys and girls on cold, damp days

Long sleeved top.

Fleece or jumper

Layers are advisable as this will keep your child warm and comfortable and can easily be removed if needed

Hat, and scarf – good for keeping chilly winds at bay
Spring/ Summer:
Long sleve T-Shirt (to protect arms from scratches and sunburn)

Long trousers (shorts/skirts are not suitable for Forest School sessions)

Socks and sturdy trainers(not canvus) (sandals/open-toed footwear is not suitable)

Parents will need to provide sunhats and lotion on sunny hot days
See bellow examples of  clothing
Please take note clothes and footwear will get mucky so please choose suitably. These will need to be taken home and cleaned ready for their next session.
School uniform still needs to be worn when not at Forest School.
If you have any problems about clothing please speak to the Forest School Leader.
What we have been learning in our sessions.