Intent
At Eythorne and Elvington we believe that writing is a skill that is transferrable across all subjects and in all walks of life. For this reason, it has a high priority across the curriculum and knowledge and skills taught in writing should be transferrable across all types of writing.
Our aim is to provide children with key transferrable writing skills to build on year on year and adapt for different purposes.
We aim to give children a range of engaging hooks to inspire and engage them in the writing process. When approaching a writing task we consider the audience of our writing which gives children purpose and motivation – where possible we make these opportunities "real life" to give the children context for their writing.
We prioritise opportunities for speaking and listening to build vocabulary and link our writing where possible to key texts or to cross curricular themes so that children can build a bank of words to use for each piece and be ambitious with their vocabulary choices.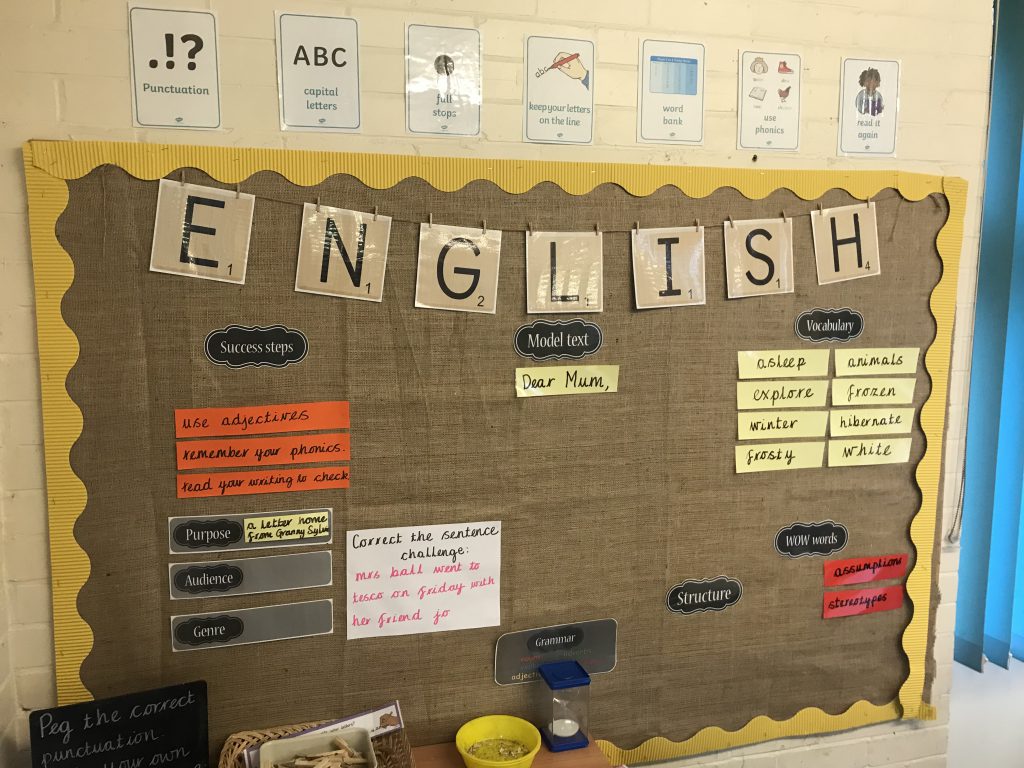 Implementation
Children receive a one-hour English lesson daily and are exposed to age-related expectations for writing within a range of texts. Writing and reading are closely linked and teachers choose texts which will not only give children a wider range of vocabulary but also a wider experience of the world outside our school.
A high standard of joined, cursive handwriting is modelled across school and children are encouraged to imitate this. Handwriting is taught and practised regularly both in phonics when teaching new graphemes, and in separate books but is expected to be evidenced throughout all work produced.
Children are taught one SPAG session discretely at least each fortnight and we expect to see the skills taught within these sessions transferred into the final piece of writing in each unit. These "stand out" pieces of writing happen 2/3 times per term and are presented and edited to a high standard. Books show the "writing journey" from key grammar and punctuation skills, through the planning, drafting and editing processes to the finished piece.
Our aim is to promote writing as a skill across all subjects taught in the curriculum. We immerse children in a termly History/Geography themed topic and encourage cross-curricular links to provide engaging writing hooks that are linked to each termly topic. This gives children an audience and purpose for writing. Children are expected to transfer their key topic knowledge and vocabulary into their writing and vice versa to transfer their spelling, grammar and punctuation knowledge into their topic work
Teacher's feedback in writing moves the children on at an age-appropriate level and is "in the moment" to provide children feedback there and then, and to enable the editing process. Children who are identified as not achieving age-related outcomes and/or those on the SEN register may be assessed against the outcomes for the year group below. Support in class may include small group work with an adult during lessons to model key skills, scaffolds created by the teacher to assist with completion of work and word banks/sentence openers provided to assist the child when writing.
Impact
Teaching staff assess writing three times per year by moderating writing against age appropriated exemplars. We validate these judgements further by moderating with local schools. This enables teachers to give confident assessments for all children.
Progress across classes is closely monitored by the English Lead and senior leadership team. Monitoring will include: regular book looks, gathering evidence of good practice, pupil voice interviews, and learning walks.
The findings of this monitoring and moderation will be used to inform next steps for the children and the implementation of writing across the school as a whole.