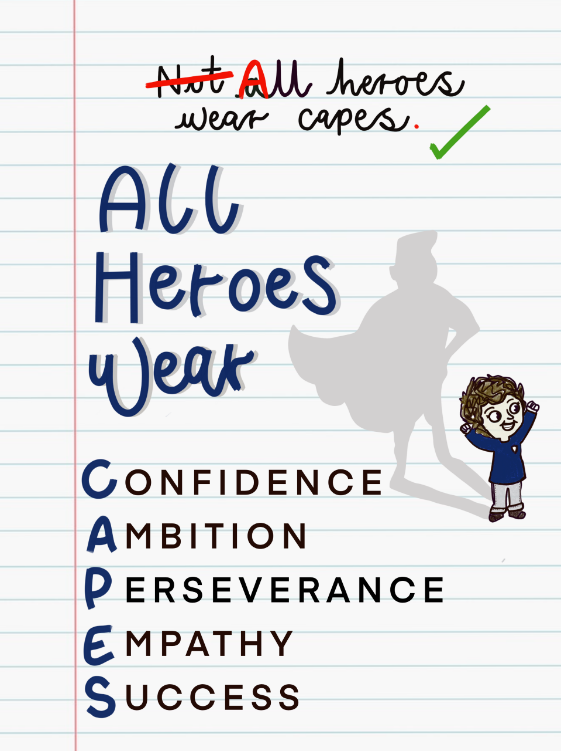 Our whole school vision at Eythorne Elvington CP School, is to ensure that whenever a child leaves us, that they have been given the best possible skills, knowledge and experiences that will enable them to go on and make the most of all of life's opportunities. Everything we do at Eythorne Elvington is geared around five core values:
Confidence
From the moment pupils come into our school, whether that be in Reception class or mid-year, we look to build on their confidence. The confidence that they have in themselves to take on challenges and make mistakes along the way; the confidence to believe in their own character traits and know that they have just an important role in the world as anyway else; the confidence to dream big and make the most of this one life we are all gifted.
We want all staff at school to have confidence in the vital role that they play as a class teacher and more importantly as a key role model in the lives of pupils. The confidence to take risks in teaching so as to create life-long memories for all; the confidence to believe that their teaching will enhance the lives of every pupil in their care; the confidence to push themselves on within their job role and make the most of their career.
Ambition
We want pupils to be ambitious. We want them to look for ambition in everything that they do – to complete every task to the very best of their ability. As a school, our job is to create ambitious opportunities and experiences that the pupils can grab with both hands. Pupils will be shown how to be ambitious by the many role-models we have within our school community. We will give them the insight into what the very best of the future holds for them and we will remove any barriers they believe may stop them from achieving it.
We want our staff to be ambitious. We expect them to have the highest ambitions for all pupils in the whole school and to be relentless in the pursuit of achieving those ambitions. As a school, we look to constantly evolve to be as ambitious so that we never stand still and continuously strive to be a little bit better every time.
Perseverance
It is very easy, whatever your age, to be affected by failure. The key to life is – the number of times you get knocked down is not important, what is important is the number of times you get back up. We want all of us within our school community to carry this message. We want our pupils to be brave and take on all matter of challenges, knowing that sometimes the best learning points come from what we find out when we fail at something. We want staff to relentlessly look to overcome the many obstacles that they are faced to ensure that all pupils are achieving.
We aim to give children the tools to cope with all kinds of difficult challenges. Children will be shown how to use their initiative, communication skills and determination to hang in there when something gets tough – to not give in and to believe that "there is always a way".
Empathy
This value is paramount to every single element of our school community – pupils, staff, parents, governors, neigbours and other community members. We expect empathy; the ability to understand and share the feelings of others.
Children will be taught, through example by the many role models in school, how we go about this on a daily basis. They will begin to understand how to communicate with all people; to know that showing emotions is a positive; to be aware of others' feelings and emotions always.
We all play a role in this school – whatever it is – with a shared intention: to improve the lives of the children who are here. Our message to the children is that we will all make mistakes in life. We will, sometimes, treat people in a way that we shouldn't. The key is, we need to be aware of this and relentlessly look to be the best version of ourselves that we can be.
Success
This value is based around making children feel comfortable with achieving success. Pupils should be encouraged to be successful and not to feel uncomfortable at having or wanting success in their lives. We will show them what success can look like in all sorts of different ways that life can bring us it. Importantly, we will demonstrate and model how to go about being successful at all that you set your mind to.
We all want to be successful – if not, we all should want to be successful. We expect teachers to have a desire to be successful in their professions on a daily basis. We expect teachers to set a mindset in their pupils to be aiming to be successful at the highest possible standards in what they do. We want to be a successful school – in every way.
All of the above values are what we instill in pupils at Eythorne Elvington to allow them to best chance of becoming the best version of themselves both now and in the future.